PROLOGUE – December 2020
Buying Lalita
I'd been talking about a van for a long time, peering around and inside the many parked along the Raglan foreshore, I'd even enquired about and inspected several old beasts for sale. What I wanted was clear – long wheel base, high top, kitchen to the front and bed at the rear so I could laze on pillows with the tailgate open and the wind from the wild sea or bush would rush in over my face. I wasn't sure this dream was legitimate? Is this what I was meant to be doing at this stage in my life? Wouldn't it just be a distraction from more important endeavors, an indulgence, a childish extravagance that would steal my time, energy and money?
Generally I just do what I want. Sometimes I get a pretty rough ride, but I've been okay. I've become too domesticated here in Raglan. My clear sense of self (which eludes my grasp whenever I investigate closely) spurs me on with its own agendas, its desirous, grasping nature. It toys with the campervan idea, feeds it fantasy, ridicules and rationalises, until my gut feeling is infected and useless. I want and I am unsure. But without grasping there is no world to live in. This grasping at something to call me and mine, a something rather than a nothing. My desirous nature is what I have.
When a Nissan caravan appears on the Raglan noticeboard, I buy it, without any inspection. It is just before Christmas and I've become desperate for something different, a way out of the too well known. The moment will pass if I don't seize it. If it doesn't work I can resell, nothing lost.
It's an old van, 1996, appears to have superficial rust, will probably require some maintenance over time, but other than that it seems perfect. I've never driven a van in my life, so I'm ridiculously timid behind the wheel – but it isn't far to drive home, just around the corner and of course I will get used to driving it in time.
As a sailor, a tramper and camper, I'm surprised how much this van resembles these other favourite ways of living. I call her Lalita – she who plays, the free-spirited mistress of Krishna.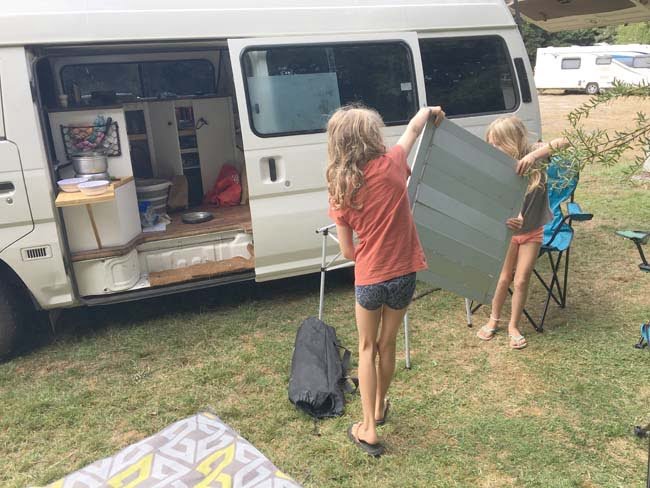 Inside reminds me of childhood holidays crunched up in a small launch, then a 24ft trimaran and a 36ft ketch. The layout of galley/kitchen and sofa beds is the same. The poking around in dark cupboards for food and clothes the same, as is climbing around other people and gear. How the table lifts off and lowers to create a double bed is also the same. And it has an old diesel engine. How I love that. A long low chugging rumble, so reassuring as a child when we chugged out of harbours in the early mornings.
And rather strangely, she rocks from side to side, just like a boat, whenever I move around inside. However she doesn't lurch, and spill crockery onto the floor unless we're driving. I still can't get used to leaving stuff precariously on the benches when we stop.
As familiar as it seems, the learning curve starts abruptly. I am terrified of driving her. I am on my own the first time on a real drive, along the Hamilton to Auckland motorway turning off at Te Kauwhata. It is a windy day and the van is definitely unstable, or so it seems – it is definitely about to blow over onto its side. The wind, which I have always loved, the stronger and colder the better, is a menace. It will cause a serious accident. I can't go much slower as I'm on the motorway. My knuckles are white on the steering wheel, my heart racing, thumping out of my chest, my mind terrified and parading the dreadfully certain outcome.
I shouldn't be doing this. What am I thinking? Where is Brian, my partner who is in front in his MX-5. I have to keep going, as I have in the past when life threatens to come tumbling down. It was only by keeping on going that I survived then. I can do this now. But I'm 65. And aren't we meant to do new things at 65, to keep us young? I am now more terrified than the worst time I remember being lost in the forest.
My niece is an engineer. She reassures me later that the van won't blow over in a strong wind. The panic has been unnecessary. In time, all this movement becomes familiar and I look forward to climbing behind the wheel. In fact behind the wheel becomes my favourite place. As the memories grow, Lalita becomes a legend.
There is a disparity between our memories and the reality. Of course there is. Personal experience is constructed through partial view and preference. There is no so such thing as the whole truth, no possibility of experience outside a point-of-view. The mind constructs what it is determined to see. The rust problems weren't exactly superficial. Most of her seals and surrounding organs needed attention. But money doesn't stay in the memory the way experience does. Money, if you have enough, doesn't mean much. To stay alive is something entirely different.