THE YOGA OF SAILING
Leaping free from the world into spiritual experience
First book in the Anchors in an Open Sea trilogy.
AVAILABLE NOW, direct from Dyana as a high-quality book, 234 pages and printed on a crisp, cream recycled stock with full-colour wraparound cover.
A romp with Alice, her daughter Emily and father Roger, on an adventure through the Pacific. Sailing is the protagonist of the story – the sails, the sea, the winds, the islands and the sea-sickness.
Alice embraces the sailing, exploring, cycling, backpacking – capturing the detail, the beauty, the poignant conflict.  She is searching but she doesn't know what she is searching for, what is driving her, so she questions it all, frustrating everyone around her. She is careening full steam towards something, be it disaster or salvation.
BUDDHA AND A BOAT
Digging into the mystery when life gets sticky
Buddha and a Boat is the second autobiographical novel in the Anchors in An Open Sea trilogy.
Alice explores teachings from earlier retreats when she goes cycling solo around Vanuatu, and reflects on her early life as she hitches alone around New Caledonia. She is swept into the lives of a local Kanak family. She starts to see why she is the way she is. When some of the family visit from New Zealand the pressure builds to explosive and she falls apart.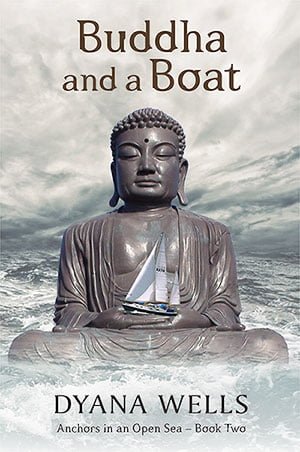 We also see Alice as an older woman, softer and wiser. She is with her children, now almost the age she was when she went sailing. She has a deeper perspective, and we see that she has succeeded in bringing her two worlds together. We don't know how she did it, or exactly what that means, but we do see that she is different, and that she has something to share.
MY TRUE NAMES
Standing in the presence of our daemons
My True Names is the third autobiographical novel in the Anchors in An Open Seatrilogy.
Alice and Cornelius begin the adventure of a lifetime, sailing from Fiji through Vanuatu and the Solomon archipelago on to the islands of Papua New Guinea. The pristine waters abound with tropical fish and coral, the volcanic islands are alive with gardens and lush jungle.
The older, wiser Alice is now teaching, incorporating neurophysiological models of consciousness.
Her daughter Charlotte, thoroughly dispirited about what humans do to themselves and others, comes to study with her. Alice introduces her to the Foundation Teaching of Buddhism and Tantric Creative Visualisation, so that Charlotte too may accept this human life and work for the benefit of all beings.
Curiouser & Curiouser
All my life I've had a profound sense of wonder and curiosity about life – my life, our lives – and our world, both inner and outer.
That sense of curiosity and investigation has both challenged me and also formed the basis of my experiences so far – whether sailing, practising yoga, meditating or climbing mountains.
And all the while there's been an almost-scientist looking over my shoulder, yearning to explore and test any new experience, theory or learning.
So now you know a little about me. This site will tell you a whole lot more 🙂
– Dyana, August 2015
---
My Teachers
In her early thirties Dyana met her first teachers of Buddhadharma: Namygal Rinpoche, Tarchin, and Cecilie Kwiat and more recently Lama Mark Webber.
She regularly embarks on long retreats to deepen her understanding of meditation, the nature of mind and the purpose of life.
---
Educational Background
The focus of all Dyana's investigating and avid questioning has been to understand life and how to live well. She has a BSc majoring in Botany and Zoology,  MA (Hons) in philosophy; MCW (Hons) in creative writing,  Dip Yoga Therapy from Wellpark College, and a Cert Counselling.
She tutored in Wellpark's Medical Sciences faculty for six years, teaching Chemistry and Anatomy & Physiology to Yoga, Massage, Naturopathy and Nutrition students. Dyana is now course director and a teacher on the 200-Hour and 300-Hour hour Yoga Teacher Training programs.
---
My Writing
Links to excerpts from my novels  …
'Laura and I were camped below the Umakarikari Ridge, above the Waipakahi River, inside the forest. Unfortunately a cyclone was moving down the country.
East Cape was a landscape of silvery-leaved pohutukawas, grand old puriris, rocky coves and dark blue water. I was cycling in the middle of summer, a pleasure not for the fainthearted.
I stare into the broken sea, wind lifting waves against the outgoing tide. White spit from the peaks dribbles down the faces. Lemon-grey smudge of sun peers through the reluctant cloud. Our boat swings back and forth, jagged, disorientated. I can't unmix the happy and bad memories.
Galiano Island is a wild slip of land grown up between mainland Canada and Vancouver Island. Punyashri and I arrived by ferry, an hour's journey, ploughing through dark space and water, getting closer, excitement rising; we were almost there.
A Path of Practice
Dyana Wells has been studying and sharing Buddhist teachings and practice for over 25 years.
She shares meditations and wisdom teachings that support our journeying to a deeper understanding of who we are. She shares traditional practices that enable us to engage life with more passion and freedom. She encourages us to live the richness of the moment with complete dispassion.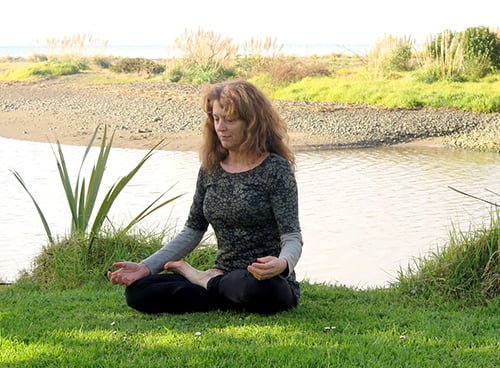 Dyana explains: "Meditation is a way people have always quietened the minds to find their way to a deeper richer level of experience and wellbeing.
"The wellspring of life and truth lies within – as all the scriptures say it is closer to us than our hands and feet. Many of us have forgotten how to find our way there, we have forgotten the fullness of our natural state."
Dyana offers clear teaching and guidance, which is practical, relevant and accessible. She offers a wealth of tools and techniques from her own training and study which are designed to suit every individual and situation.
---
Dyana has spent her life exploring deeply, both inner and outer worlds.
She had been an avid explorer all her life, in love with life, roaming mountain tops, tussock country, forests hung heavy with snow, wilderlands with vast river valleys rolling and snaking through boulders.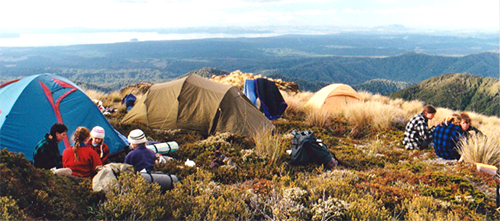 She has sailed the craggy, sandy treacherous coastline of New Zealand, and journeyed on the wings of her sail over the tumultuous ocean into the pacific.
Dyana has cycled bumpy backbones of our moody planet, determined to experience life in all her seasons. Her love of life is inexhaustible, and she brings this exuberance for life into her teaching.
---
Dyana's first leap into the panoramic laboratory of life was at University, through the lens of botany, zoology, chemistry and mathematics.
Now she delights in introducing students to the extraordinary complexity and beauty of the human body. Dyana is an avid reader of scientific research particularly relevant to yoga and meditation, and enjoys the lively discussions that erupt in her classes around digestion and bacteria.
She loves the creative interplay between science and yoga. She says: "They enrich and clarify each other." Yoga is a science of the mind. Our bodies are the manifestation of this mind. "The disciplines are twin investigations into life."
Questions & Answers
Who am I? Why am I alive? These are questions we all ask, but don't often know how to look for an answer. The spiritual journey is this questing for answers.
"The untrained mind is stupid! Sense impressions come and trick it into happiness, suffering, gladness and sorrow, but the mind's true nature is none of those things… really this mind of ours is already unmoving and peaceful…" – from Food for the Heart by Ajahn Chah
"When we see beyond self, we no longer cling to happiness. And when we stop clinging, we can begin to be happy." ~ Ajahn Chah – Wisdom & Happiness
"If you let go a little you will have a little happiness. If you let go a lot you will have a lot of happiness. If you let go completely you will be free." – Ajahn Chah
---
Workshops with Dyana Wells
Meditation & Mindfulness
Essential training for all students of life.
8-Week Course
Saturday Mornings
9:30am–1:30pm
Mar 11, Mar 25, April 8, April 22, May 6, May 20, June 3, June 17.
8-Week Course $300 (save $100). Single workshops $50.
---
Anatomy & Physiology
focus on Musculoskeletal Systems
8-Week Course
Saturday Afternoons
1:30–4:30pm
Mar 11, Mar 25, April 8, April 22, May 6, May 20, June 3, June 17.
8-Week Course $300 (save $100). Single workshops $50.
---
Wise Body Workshops
with a focus on Somatic practices, Loving Kindness and Compassion, and the Elements
5-Week Course
Monthly Sunday Workshops
9:30am–4:30pm
March 12, April 9, May 7, June 4, July 2
5-Week Course $400 (save $100). Single workshops $100.